Popular Uses
Features
40-year limited rust-through perforation warranty
AZ55 Galvalume® coating - provides more resistance to rust
Easy and fast to assemble
Made in the U.S.A.
A-Model Steel Buildings | Metal Storage Sheds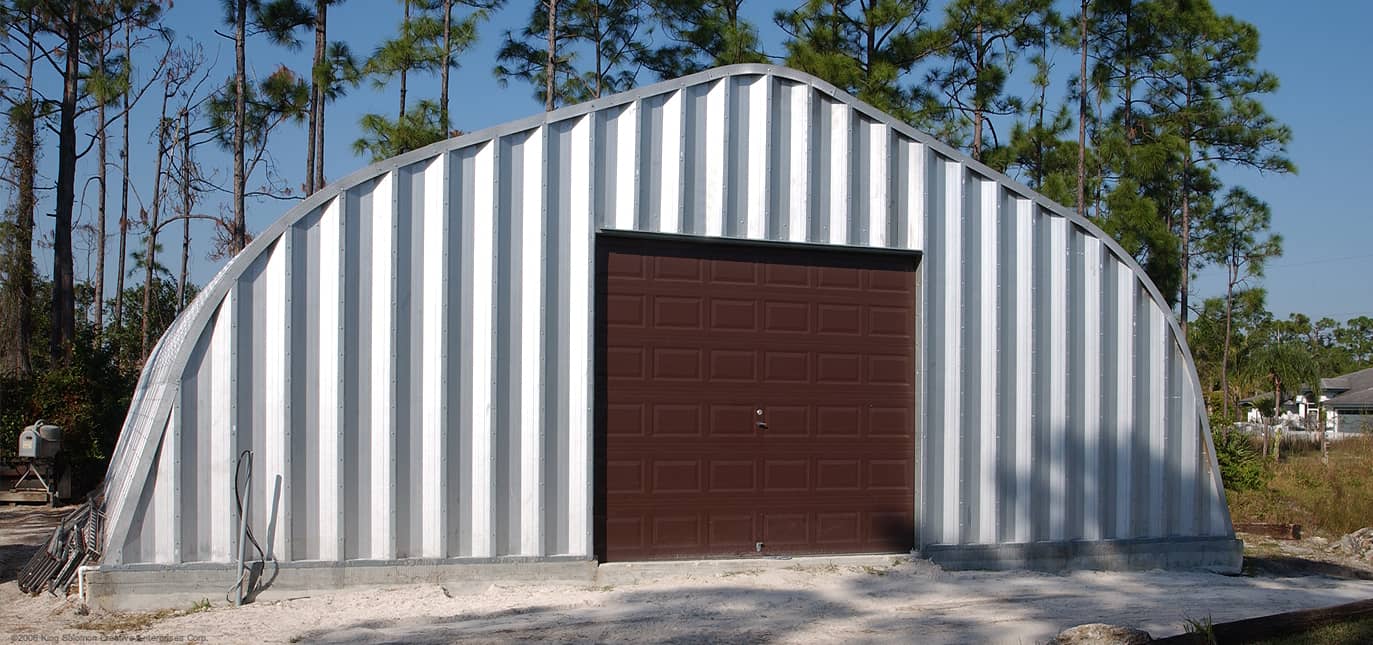 The all-American company that sets the standard for the industry. We're a step above the rest!
Our A-Model Steel buildings are top notch:
A 4:12 roof pitch feature
Ideal for steel garages and workshops in high-snow load areas
Available up to 40' wide with unlimited lengths to suit your every need
Click here to price a building online or call 1-800-457-2206
See our other unique models as well: S-Model, P-Model, Q-Model
Steel Arch Buildings, Storage Sheds, Metal Buildings
Leading the world in the manufacturing of easy to assemble, arch steel buildings.
Here at American Steel Span, we appreciate hard working Americans. That's why all of our materials are solely made in the USA. We think that, when you buy a product, your purchase should be covered. Which is why we offer a 40-year limited rust-through warranty. Our designs are customizable, and practical enough to suit your every need. Take a look at our four styles of arch steel buildings you could use for any of your metal building needs.
Looking for a metal storage shed? These are just a few reasons why our steel building kits are the best:
We have 40 years of experience as the top dogs in the industry. No one can match our quality.
Within 24 hours our technicians will respond to your inquiry, discuss your needs, and price a structure to your specifications.
Our steel is the best in the world. We have the highest quality, and heaviest-gauge commercial material.
Precision manufacturing and design that meets and exceeds industry standards.
We do nothing outside of this great country's borders. Our all-American made product gives citizens jobs, and ensures our level of quality.
Efficient scheduling, delivery, and share-loading of materials reduces delivery cost, which saves you money.
An amazingly long 40-year warranty ensures your structure is protected for years to come after your purchase.
Customization keeps you in control of your unique project. We are happy to work with you, and are continuously committed to your satisfaction. We'll get the job done right.
We've been around long enough to prove our reliability, and the quality of our products. Click here to price a building online or call 1-800-457-2206. Don't forget to ask about our surplus specials.
Click for a Quote or Call 1.800.457.2206
AMERICAN STEEL SPAN
---