Popular Uses
Features
40-year limited rust-through perforation warranty
AZ55 Galvalume® coating - provides more resistance to rust
Easy and fast to assemble
Made in the U.S.A.
Recreational Steel Buildings | Metal Warehousing
We design steel structures that can be used for all manners of recreational buildings.
Looking for a place to store sporting goods, hunting/fishing equipment, or boating gear? We have mid-sized steel buildings that will fit the bill.
Do you need to house a basketball court or indoor baseball field? We have expansive buildings that can accommodate the larger amount of space required to keep them shielded from the outdoors.
Our metal buildings are durable and versatile, so they can be used for a variety of recreational purposes: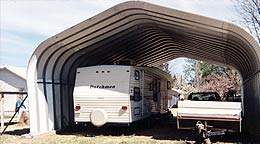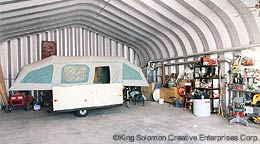 Gymnasiums
Ice rinks
Ball courts
Our steel buildings are perfectly suited for sport because they're made from proprietary Galvalume steel, and provide durability that far outclasses traditional metal pole barns and other steel buildings. When normal varieties of steel will begin to show signs of corrosion, Galvalume continues to stand up to the elements.
If you need buildings for a slightly different purpose, we can still suit your needs. Whether it's metal warehousing for storage, industrial buildings for doing your own crafting, or a place to showcase your own goods and services, we have prefab structures that will fit the bill. All of our buildings are easy to assemble, and can be put up fast with a minimally sized crew and no specialty skills required.
Outstandingly durable and useful metal structures aren't the only reason you should consider American Steel Span for your building purchase though, the way we conduct business is an equally important component to why our customers keep coming back to us as their supplier.
Precision manufacturing – Everything that we construct is designed to meet or exceed industry standards. Purchasing substandard wares only to need them replaced in short order is beneficial to no one. We believe that quality up front aids our customers, by providing them value, and helps us in maintaining our sterling reputation as reliable providers of 100% American made steel.
Superior customization – Rarely does one size fit all, and this mantra applies doubly to building designs. Your needs will be unique, hence the building you get from us will be uniquely crafted to fit your size requirements and usage goals.
Long term support – We provide a 40 year limited rust through/perforation warranty on our merchandise. If corrosion that exceeds the limits of normal wear and tear occurs, we've got you covered.
Don't delay. If you're in need of a low-maintenance recreational building option, give us a call to learn more! We are standing by to help you with your next building project.
Click for a Quote or Call 1.800.457.2206
AMERICAN STEEL SPAN
Price a Building (

*

) Required fields
---
Click to Download a FREE Brochure
Click Here for a Steel Building Quote or Call 1.800.457.2206
---