Popular Uses
Features
40-year limited rust-through perforation warranty
AZ55 Galvalume® coating - provides more resistance to rust
Easy and fast to assemble
Made in the U.S.A.
Pole Barn Kits | Farm Buildings
Our metal buildings are used frequently on farms for:
Hay, grain and crop storage
Livestock shelters
Machinery storage
Farm equipment shelters
Garage for tractors, combines and other farm equipment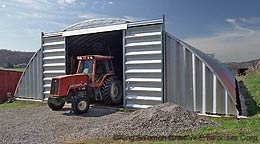 For over 50 years, American Steel Span has served the farming industry. We are the world's leading manufacturer of pre-engineered, easy to assemble, arch-style structures for a variety of uses by farmers including steel horse barn designs, metal pole barns, and much more. Our buildings are entirely made with American pride right here in the USA, and backed with a 40-year limited rust-through warranty. We offer four types of agricultural buildings, pole barn kits, and steel barns to choose from: the P, S, Q and A models.
Why have America's farmers trusted us to meet their needs over the years? What makes us the superior choice amongst other manufacturers?
Four decades of leading the industry means we are a company you can trust, and that our materials are the best out there.
Our 40-year warranty protects your purchase for years to come. Your investment is not only smart, but safe.
Everyone has enough to do in a day, so why wait around to talk to someone? Our highly trained technicians get back to you within 24 hours to discuss your plans.
Made from high quality Galvalume® steel that can really handle the elements. Heavy snow and 150mph winds are no match for our steel.
Precision manufacturing and design meets and exceeds industry standards.
We give Americans jobs by making all our materials on United States soil. It's quality you can rely on, and a product made with pride.
We work in an efficient manner to bring down delivery costs. Saving you from spending any more of your hard earned money.
Customizable options that meet your specific plans, and needs.
Incredibly versatile designs that are virtually maintenance free
Customer service that's there when you need it. Reliability is an important aspect of our business.
Color finishes to match existing barns, houses, sheds, and other structures.
Designs to ensure the health of farm animals. No beams for birds to nest in, which means no avian flu.
Farmers know that American Steel Span is a name you can trust, and rely on. Our prefabricated buildings are a perfect fit for any of your needs. Tired of messing around with rotting wood? Get yourself a quality pole barn kit today! Ask about our surplus specials, too.
Click for a Quote or Call 1.800.457.2206
AMERICAN STEEL SPAN
Price a Building (

*

) Required fields
---
Click to Download a FREE Brochure
Click Here for a Steel Building Quote or Call 1.800.457.2206
---