Popular Uses
Features
40-year limited rust-through perforation warranty
AZ55 Galvalume® coating - provides more resistance to rust
Easy and fast to assemble
Made in the U.S.A.
Garage Kits | Metal Carport
Most homes have a garage of some sort. But it's not uncommon to find families with more vehicles than garage space. We invest in cars, boats, ATV's, RV's, trailers, and more, but what can you do when you have more vehicles than garage space? And leaving your investments exposed to the elements and available to anyone driving past your home is certainly not the best option. We have the best and most affordable option for protecting your investments.
American Steel Span has been the leading manufacturer in pre-engineered and easy to install arch-style metal buildings for nearly 40 years. Our DIY garage kits are one of our most popular selections. We can provide a metal building kit or steel carport in all sizes to help protect all of your vehicles. They are easy to assemble and stand up to all types of the harshest weather conditions. Protect your classic or luxury cars in winds of up to 150 MPH. Secure your boat or jet ski from damage or theft. Perhaps you just need additional carport space to cover the family car or a building to store your RV for the winter.
Our metal garage kits and steel carports are perfect for...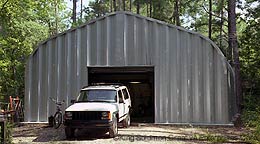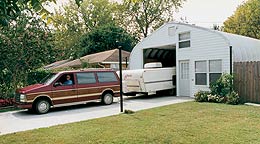 Luxury and cars
Hybrids
Sports cars
Trucks
Vans (or minivans)
RV's, ATV's, Trailers
Motorcycles
Boats, canoes, kayaks
Jet Skis
Adding a new metal garage or storage space to your property can boost your home's value by as much as 14% and they consistently retain their value. An American Steel Span prefabricated garage can accommodate all of your storage space needs, save you money, and help your property gain equity.
American Steel Span specializes in high quality, 100% made in the USA metal buildings. They come in a variety of styles and sizes. Our trained technicians will personally respond to your inquiry and provide a free quote within 24-hours. Once your order is placed, they will work with you to efficiently schedule the delivery of your garage kit to help further reduce your expense and stress.
Our metal buildings are made of Galvalume® steel
Garage kits are economical. They cost less and take less time to build than a traditional garage.
Virtually maintenance free.
Resistant to weather conditions and pests.
All of our durable steel garages come with a 40 year warranty.
Cost effective way to meet your growing storage needs.
Adds value to your home or other property investments.
Cost saving advantage over conventional garages and storage space.
Contact us today 1-800-457-2206 and let us help you choose the perfect garage kit to fit your needs or customize a steel building to provide the best solution for your growing needs. You will quickly see why American Steel Span is the industry leader in providing steel garage kits and metal carports.
Click for a Quote or Call 1.800.457.2206
AMERICAN STEEL SPAN
Price a Building (

*

) Required fields
---
Click to Download a FREE Brochure
Click Here for a Steel Building Quote or Call 1.800.457.2206
---