Steel Building Manufacturer | Metal Buildings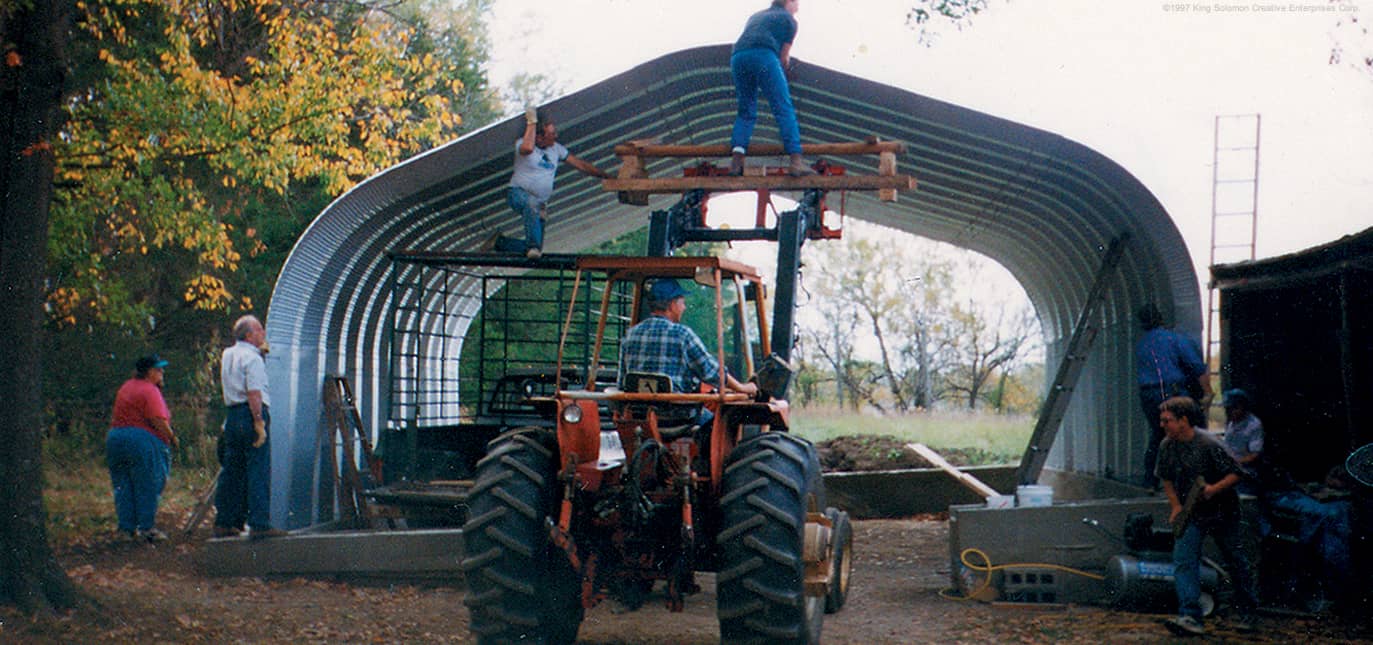 American Steel Span is the custom and prefabricated metal manufacturer of choice for those looking to find a company that will meet their project needs. We have over 40 years of experience as a manufacturer and stand out among others for our commitment to quality, and customer service. Rest assured that when you choose us you are getting the highest quality building material that money can buy. Unlike other manufacturers, our buildings are 100% American made, using the highest grade US steel available. It is our experience and commitment that make our company superior.
Click here to price a building online or call 1-800-457-2206
Steel Building Manufacturers, Metal Buildings, Garage Kits
For over 38 years, we have been the world's leading manufacturer of pre-engineered, easy to assemble, arch-style buildings for a variety of uses including storage sheds, garage kits, workshops, and more. Our buildings are entirely made in the USA and backed with a 40-year limited rust-through warranty. We offer four practical styles to accommodate your needs: the P,S, and Q models.
We specialize in high quality structures made with American pride. Why should you choose us as your manufacturer?
With 38 years of metal building design and manufacturing experience, we produce nothing but top quality products available to you at factory direct prices.
We offer personalized service from our highly trained technicians who will respond to your inquiry, discuss your needs, and price a structure to your specifications all within 24 hours.
Made only from the highest quality, heaviest-gauge commercial grade steel available in the world.
Precision manufacturing and design that meets and exceeds industry standards.
Our steel buildings are made entirely in the USA, giving Americans jobs and ensuring your hard earned money is spent on nothing short of the finest quality.
Efficient scheduling, delivery, and share-loading of materials reduces delivery cost, which saves you money.
Customization keeps you in control of your unique project. We are happy to work with you, and are continuously committed to your satisfaction. We'll get the job done right.
Our 40-year warranty protects your unit for decades after your purchase, giving you a worry free guarantee that we will take care of your smart investment.
Your satisfaction is important to us, and our exceptional customer service line is always here to help you when you need it. Consider yourself a preferred customer.
The practical design of our buildings allows you to use them for any need, even as those needs change. The floating foundation means your building can go with you should you ever move.
Our company has been a top choice for American farmers, industrial workers, and the men and women protecting our freedom on our own shores and overseas. These buildings are put the test by hard working Americans, and pass with flying colors!
We deliver quality, strength, and service on all custom or prefabricated metal buildings at factory direct prices. Call American Steel Span today for our surplus specials.
AMERICAN STEEL SPAN
Steel Buildings by American Steel Span - Metal Buildings & Garages
Call Now!
1-800-457-2206

High sidewall clearance
Popular building

Maximizes usable interior space
Very economical building
Popular with farms

Features a 4:12 roof pitch
Ideal for high-snow load areas
Popular Uses
Features
40-year limited rust-through perforation warranty
AZ55 Galvalume® coating - provides more resistance to rust
Easy and fast to assemble
Made in the U.S.A.