Steel Building Kits | Metal Storage Sheds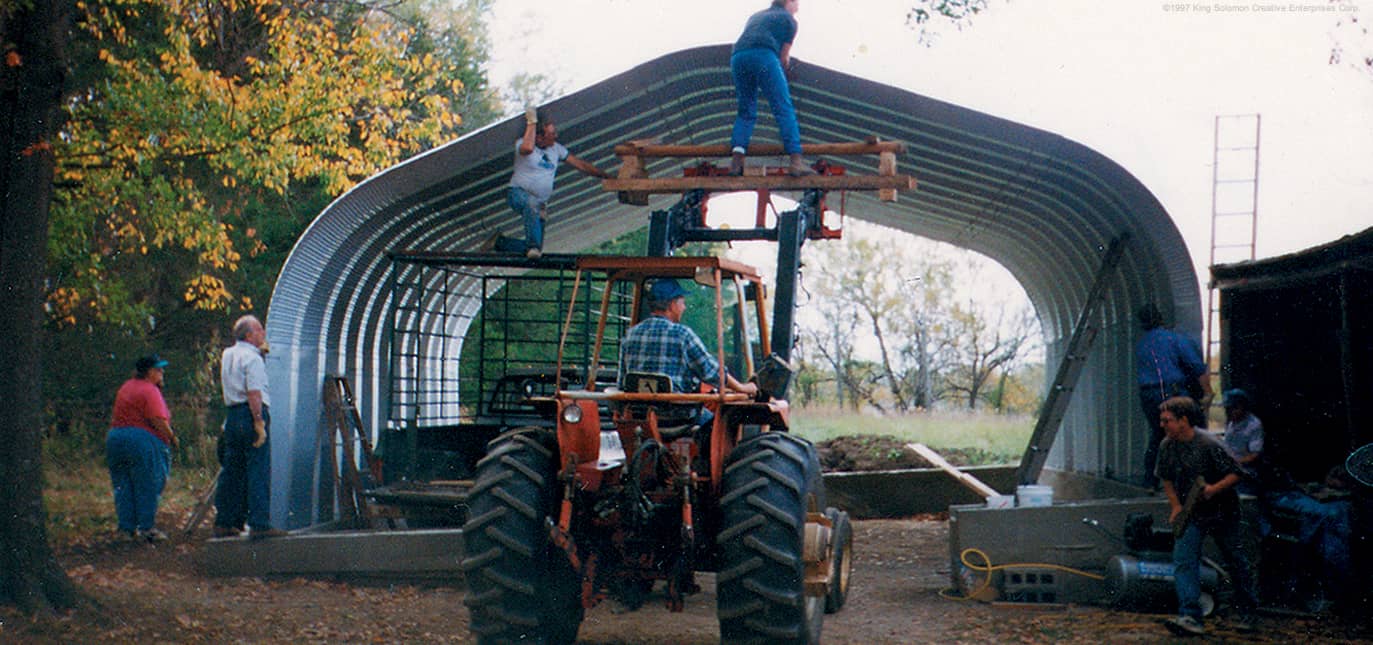 If you need to quickly assemble a housing structure with optimal flexibility, then a DIY steel building kit is the perfect solution. They're sturdy, durable, and can be applied to a multitude of situations. If you needed a method to create a workshop with some storage capacity, for example? Our range of steel arch buildings, combined with our metal storage sheds are an ideal combination to address your needs.
A creative solution to something that isn't so straightforward
Arch steel buildings can provide the answer for nearly every application. For instance, did you know that prefabs are easy to soundproof? Combine that with the fact that you can set them up out of the way, and you've got the perfect recording/practice studio setup. You can add some storage space for instruments and crank up the volume without fear of disturbing neighbors.
The possibilities don't end there. Suppose you need some more office space, but don't feel like renting downtown. You guessed it, steel prefabs can set up on your property and adapted into an office. Far from looking bland, they can be customized to have windows, a variety of door options, and can be stylized to fit your tastes. It'll be an affordable way to upgrade your business with extra room.
The perks of using an American Steel Span metal building
Quick Response – We don't waste time. When you send us an inquiry, we respond within 24 hours and are ready to hit the ground running to start working out specifications and get you an estimate.
Easy Process – When you get your prefabricated steel building, you won't need to spend months with a large putting it together. A few days and a few men are all that are required.
Customized – What you need might be completely different from what another client needs. We take this into consideration when working out particulars, and never try to shoehorn customers into a one-for-all approach.
We've been setting the standards in the steel building for over three decades. Now is the time to explore the economical, eco-friendly, and long lasting nature of steel prefabs.. Our product will be individualized for your situation, and you'll be able to tackle any building challenge quickly, easily and within budget. Give us a call today to get started.
AMERICAN STEEL SPAN
Steel Buildings by American Steel Span - Metal Buildings & Garages
Call Now!
1-800-457-2206

High sidewall clearance
Popular building

Maximizes usable interior space
Very economical building
Popular with farms

Features a 4:12 roof pitch
Ideal for high-snow load areas
Popular Uses
Features
40-year limited rust-through perforation warranty
AZ55 Galvalume® coating - provides more resistance to rust
Easy and fast to assemble
Made in the U.S.A.